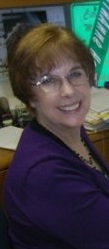 RuthAnne Harbison, GISP
Job:
GIS Coordinator
City of Merced
Bio:  Have been in public service for 46 years starting in the Health Department for the County of Madera. Also worked for the Courts, Environmental Health, and the Information Technology departments in the County of Madera.  While in Environmental Health was introduced to GIS and became the lead for the GIS Committee.  Was transferred to IT in March of 2003 and recruited for my current position a couple of months later.
Have served as the GIS Coordinator, practitioner, coach, advisor of all things GIS here in Merced in and across all departments. Working with staff in each department, have been able to grow the use of GIS for the benefit of the citizens of Merced.
Have served on the board of CGIA as a board member for Cities, Secretary for several years, Vice-Chair, Chair, past chair, Membership Committee chair, and now again on the board for Cities. As part of the outreach initiative, have chaired the GeoSummit at UC Merced for the last five years.  It is one of CGIA's most successful partnerships.  I've been on the planning committee for CalGIS for 10 years, chairing the conference in 2008 where we had 458 attendees and 51 vendors.  Also currently serving on the executive board for the CA GIS Council.
I've been involved with the Women in GIS movement for several years and serve on the outreach committee.
I've enjoyed presenting at various conferences, community events, and schools on the wonders and benefits of GIS. Have presented a GIS Day event here in Merced for 12 years and host a map gallery the entire month of November in the Civic Center lobby with maps from several departments and various agencies in Merced County.
Project(s): For the last nine years GIS has supported the dispatch system for the City of Merced Police and Fire. We currently use several layers for officers to display a map in their software and dispatchers can see their location as well as do proximity dispatching for better efficiency on calls for service.  We are starting to use the Collector app more in various divisions in Public Works to develop a better record of infrastructure inventory and history of inspections.  Story maps are also becoming popular with several departments and are fun to put together.
What is the best career advice you received? Be honest, caring, respectful, trustworthy, and a good listener.
Best GIS quote: "What if your entire organization could use spatial data?"  I think it really gets people thinking about all the possibilities.
Me:  I was born in upstate Wisconsin and grew up in central California.  (Still a Green Bay Packers fan.)  I enjoy spending time with my family and friends and we all like to travel.
Thanks for the memories:  I have truly enjoyed getting to know so many of you and work with you on projects and conferences.  You have all inspired me throughout my GIS career and I am grateful for your kindness and friendship.  I wish you all the best in your careers and hope our paths cross again.