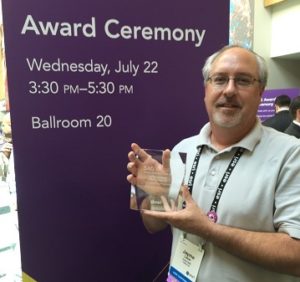 Job:
Senior Service Hydrologist
NOAA National Weather Service
Los Angeles/Oxnard Weather Forecast Office
Oxnard, CA
Bio: I graduated from Colorado State University in 1991 with a BS in Watershed Sciences and am a registered Professional Hydrologist. My entire career has been spent in Southern California working as a Hydrologist. I first worked for a local water district, then for the County of Ventura, and for the past 12 years with the National Weather Service. I was introduced to GIS in the early 1990's and since that time have had a passion for it and have found a way to incorporate GIS and geospatial thinking into all aspects of my work.
I currently serve as a Board member for CGIA (California Geographic Information Association) and have previously served as a Board member for CIRGIS (Channel Islands Regional GIS Collaborative).
One of my most memorable GIS experiences to date was being selected to receive an ESRI SAG Award in 2015.
Project(s): A couple of my favorite GIS projects that I have completed while working at the National Weather Service are the NWS Weather and Hazards Data Viewer and my most recent GIS passion, Story Maps.
The NWS Weather and Hazards Viewer evolved from a local Southern California based weather viewer, that I developed with the NOAA Coastal Services Center, and a weather forecast shapefile service into what exists today. A user can view weather forecast and observation data via the web based viewer. The NWS Weather and Hazards Viewer can be accessed at: http://www.wrh.noaa.gov/map/
A couple of years ago I was introduced to ESRI Story Maps and immediately became a fan. Story Maps offer a way to combine GIS spatial information with text, images, and videos. Over the past few years I have created numerous Story Maps that convey some sort of weather/flooding type information. I have used them for post storm analysis, conveying a weather forecast, as well as to highlight research projects I am involved in. To view the Story Maps that I have developed, visit:
http://www.wrh.noaa.gov/lox/main.php?suite=hydrology&page=story_maps
What is the best career advice you received? Be honest, trustworthy, reliable, and prepared.
Anything About Yourself: Having grown up in Colorado, I am a huge fan of the Denver Broncos, Denver Nuggets, Colorado Rockies, and Colorado Avalanche.