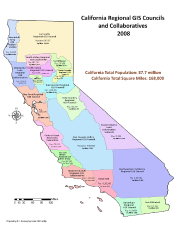 Regional Collaboratives are an important part of California's efforts to foster collaboration among regional GIS groups, networks, consortiums, and associations throughout the state. Some of these organizations have formal charter arrangements that make them a council, while others are more of an informal federation of organizations, referred to here as "collaboratives."
Click here for a contact list of Regional Collaboratives.
Click here for a map of Regional Collaboratives.
The benefits of participating in Regional Collaboratives include:
Opportunity for government, non-profits and private sectors to create and achieve mutual goals

Increase resource sharing by working on projects that benefit local, state and federal interests

Improve geospatial data sharing,

Reduce agency cost of geospatial data development and use

Increase productivity and efficiency to maximize limited resources

Increasing opportunities for people to work together from the government, non-profit, and private sectors
Current goals that regional collaboratives are pursuing include:
Implementing homeland security servers that share geospatial datasets

Sharing geospatial data through informal and formal agreements

Increasing emergency response effectiveness by collecting GIS data that needs to be shared in a secure location in advance of the emergency


Educating other GIS professionals of similar projects and activities to increase productivity and decrease redundancy
Representatives of regional collaboratives hold quarterly meetings with CGIA. Regional collaboratives also participate in the California GIS Council annual meeting. Members of regional collaboratives participate in task forces and work groups to implement statewide initiatives that have been adopted by the California Council.
Regional collaboratives meet at designated local sites on a schedule determined by each collaborative. Contact the lead collaborative representative to get information about meeting times and locations. Become involved in CGIS and the regional collaborative near you to promote the effective use of GIS!