2011 Advancement of Collaboration Award: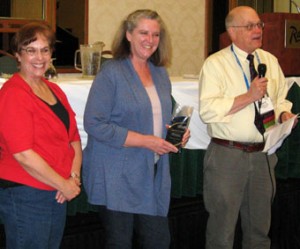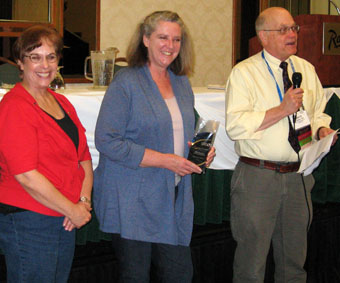 Mike Hamilton, Marine Corps Installations West
Western Regional Partnership Web Mapping Application
(accepted by Carol Ostergren)
The Western Regional Partnership (WRP) provides a proactive and collaborative framework for senior-policy level Federal, State and Tribal leadership to identify common goals and emerging issues in the states of Arizona, California, Nevada, New Mexico and Utah and to develop solutions that support WRP Partners and protect natural resources, while promoting sustainability, homeland security and military readiness.
The GIS Sustainability Decision Support Tool, known as the WRP Web Mapping Application, was designed to assist partner planning efforts in the region. The application displays spatially referenced data using a common platform and shared data. To take full advantage of the mapping tool, WRP partners need only an internet connection, web browser, and WRPinfo.org user account. The mapping application references GIS data contained in the WRP regional GIS database, which includes publicly available datasets from WRP state, federal and non-governmental partners. In addition to the Regional GIS database, the application links GIS web mapping services published by other organizations.
This decision support tool provides Partner agencies a common platform where data may be reviewed and used by the WRP community.
2011 Chairman's Award:
Mary Hurley
Promoting GIS and Collaboration for GIS in California
Mary has supported GIS and the GIS community in California for more than 30 years.  In addition she has supported the states of Arizona, Nevada, and Florida, and worked on Federal and military projects.  She has worked in the private sector and participating in non-profit GIS groups to promote Geoliteracy and advocate for statewide spatial policies to improve the knowledge and availability of spatial data.  Over the years Mary has been a part of the growing awareness of GIS:
Member of CIRGIS and served on the board for 8 years
Member of NSGIC for 8 years and has served on the Outreach Committee
Member of SoCal URISA
Chairperson for CalGIS in 2006 in Santa Barbara
Has served many years on the CalGIS Planning Committee
Participated in GIS Day events at colleges, various cities, and counties around California
Served on the CGIA Board (and continues to do so)
Served as CGIA Chairperson for two years and currently serves as Treasurer
Planning Committee for the State Executive GIS Event in Sacramento in 2008
Most recently she served on the Governor's Task Force for GIS for the Office of the Chief Information Officer in 2008-09 resulting in the document:  Visualizing California – A Strategy for Enhanced Decision-making Tools for Public Policy Makers and the Public.  This document provided guidance for Policy Makers and a strong recommendation for establishing the Geographic Information Officer position in California.
She has certainly been a driving force promoting spatial awareness, collaboration, and Geoliteracy to all of California.
2011 Excellence in Education Award:
Cindy Nance, Mt. San Jacinto College
Certificate in GIS, Associate of Science degree in GIS and Associate of Arts in Geography Program, Mt. San Jacinto College
Bachelor's in Anthropology (Archaeology), U.C. Berkeley 1983
Master's in Anthropology (Archaeology), Northern Arizona University 1992
Doctorate in Geography (Archaeology and GIS), Louisiana State University 1998
Dabbling with maps and land records in 1982 using mylar overlays on an overhead projector to demonstrate land use change over time, from prehistoric site to Spanish vineyard to a proposed development in San Mateo County.  Her dissertation focused on multiple factors that contribute to the abandonment of historic cemeteries in Southeastern Louisiana, including outmigration and negative impacts of cemetery regulations.
She began teaching GIS at Riverside Community College and U.C. Riverside Extension in 1999.  Hired as Geography and GIS Instructor at Mt. San Jacinto College August 2000, where I followed Ann Johnson's lead in creating a Certificate in GIS, Associate of Science degree in GIS and Associate of Arts in Geography.  Mt. San Jacinto College's GIS program continues to evolve as industry and professional demands change.  Recently, submitted course revisions that integrate geospatial competencies for six new Geospatial careers now recognized by the Department of Labor, which is based on the URISA, September 2010 publication focusing on Education.  Dr. Nance, as her student's call her, is hoping to have the GIS program at Mt. San Jacinto College fully online by Spring 2012.
2011 Exemplary Systems Award: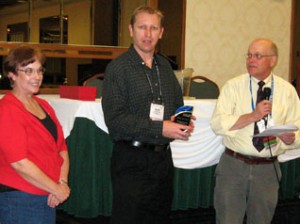 Nicholas Franchino, 
Los Angeles County Department of Regional Planning

Z-NET Project
(accepted by Mark Greninger)
Z NET Public gets it right. This deceptively simple web application provides a wealth of the most commonly sought planning information for the unincorporated areas of Los Angeles County while requiring only rudimentary familiarity with online maps. Using the County's own beautiful cached maps, very high-resolution aerial imagery and distinctive tool icons, the application is also aesthetically pleasing.
The thought that went into designing for speed and simplicity is clear; the interface is flexible, yet uncluttered.  Z-NET Public has a very limited set of tools – all visible without menus – and all with familiar-looking icons. Liberal use of tool-tips and a well-illustrated help system further support ease-of-use. The web page containing this embedded application offers additional helpful information and links to other resources.
In its first month of public use, Z-NET Public is already the fifth most-visited page on the Department of Regional Planning website. The Department's planners, who were deeply involved in determining its features and evaluating its ease of use, have also enthusiastically received the application.
2011 Outstanding Internet Presentation Award:
Sebastian Roberts, County of Nevada
My Neighborhood Web Application
Nevada County's My Neighborhood web application gives citizens access to property and other data with a user friendly map interface.  A user can navigate around the map and overlay various aerial photos using a slider to adjust the transparency of the image overlay.  Numerous district boundaries and points of interest such as schools and polling places can also be displayed.  One can search by address or parcel number to quickly zoom to a parcel and launch a report with associated property values, zoning, building permits, a link to the Assessor's Parcel Map, and more.  The application allows you to add your own graphics and labels and quickly print the map.  Internally, County employees have the additional ability to upload addresses and place them on the map, or buffer a project area and export a list of owners and addresses.  The sheriff department is provided with analytical tools such as crime mapping and proximity analysis.
This application has also proven very useful for county staff especially county planners and building department staff working at the public counter, Assessors, and Environmental Health workers.
This application was built using the ESRI Flex API 1.3, and is based upon ESRI's sample Flex viewer.