2010 Advancement of Collaboration Award: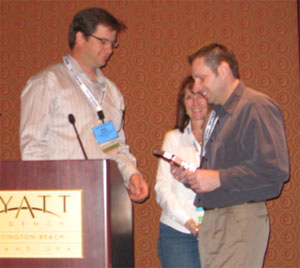 Terrence Newsome, formerly of CalEMA and now  US DHS HIFLD to the Regions SW Region
California Homeland Security GIS Working Group  & HIFLD to the Regions
As a longtime advocate for public safety analysis via his work with the State of California and now via the US DHS Homeland Infrastructure Foundation Level Working Group (HIFLD) to the Regions, Terrence has been the lead coordinating force for Homeland Security GIS within California. Terrence's collaboration work brought together the Homeland Security GIS Working Group. This group has brought together individuals from State, local, and federal agencies and includes members from each of the RTTAC regions, the National Guard, the National Labs, health and CalEMA. The group shares information about homeland security GIS projects that are happening around the state, focusing on how to collaborate on projects, share information, and integrate systems to further the mission of homeland security prevention, protection, response, and recovery.
2010 Chairman's Award: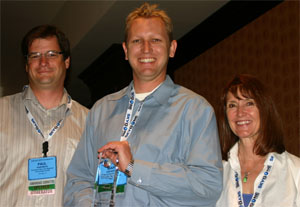 Mark Greninger, Los Angeles County Chief Information Officer
Los Angeles County Enterprise GIS & LAR IAC Project
Mr. Greninger has been the Geographic Information Officer (GIO) of Los Angeles County since 2006. In this capacity, he has carried out many initiatives in the spirit of cooperation, collaboration and efficienty. He is an advocate for GIS, data accuracy, and data sharing policies and is a tireless leader for all things GIS in Los Angeles County. In demonstration of this spirit, he sits on several committes, including NaCo GIS Committee, CGIA, Cal GIS Council, and a Homeland Security Working Group.
A few of Mark's accomplishments include:
Development of the County of Los Angeles Enterprise GIS, an initiative to provide central standards and systems for extending and leveraging GIS technologies around the County.
The Countywide Address Management System (CAMS), which aims to be able to find every existing address in the County.
The Los Angeles Region Imagery Acquisition Consortium (LAR IAC). This interagency project comprises 10 County departments, 31 cities, and 5 other public agencies in LA County, with the sole purpose of sharing the costs of acquiring detailed digital ortho and oblique aerial imagery and digital elevation datasets for the entire County.
 2010 Excellence in Education Award: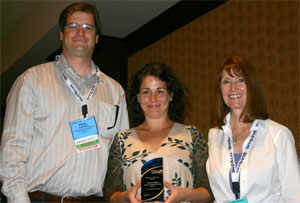 Tracey Hughes, University of California, San Diego Libraries
On-Line GIS Resources Guide
Since early 2009, the On-Line GIS Resources Guidehas served patrons from UCSD and beyond, with quality links to GIS resources by place, subject, type, and more. More than 10 other universities (6 in California) regularly reference and utilize this site, and it has been featured in ESRI's globally published Education Newsletter as a top resource.
The resource guide, located at http://delicious.com/gis_resources, was created by Tracey Hughes, the GIS Coordinator at UCSD, to serve as a key resource for the entire UCSD community. By using an open source tool that is freely accessible to anyone with an Internet connection, the Resources Guide was able to be started free of charge and with extremely minimal resources; Tracey's colleagues subsequently provided academically focused GIS services. The site is now in the process of becoming a collaborative resource that will likely use ISO 19115 tags for standardization, and to enable even easier location of vetted and quality GIS resources in the online sphere.
2010 Exemplary Systems Award: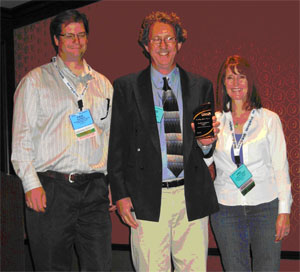 David Endelman,City of Oxnard, IT/GIS
Mobile GIS Field Asset Mapping
The GIS Field Mapping Project for the Trash Total Maximum Daily Load (TMDL) Monitoring Program required photography of trash and associated capture of GIS coordinates, along with completion of form data. Blackberry Smartphones running Freeance software were used to electronically capture this field data. Data collected in the field were forwarded at the end of the day, or reviewed real-time when collected.
A field GIS solution was vital in order to document location, description, condition, and date of installation of field assets. Accurate field data will help with maintenance planning, financial planning, and GASB 34 reporting. This project represents the beginning of a compatible wireless field GIS solution.
The City of Oxnard has an outstanding GIS Team within their IT Department. The City has a long history of award-winning GIS work and a tradition of collaboration with other Cities, the County, and regional organizations such as CIRGIS. The City GIS remains strong even during tough economic times, as evidenced by their innovative projects. This project is just one example of their creativity and willingness to think outside the box.
2010 Outstanding Internet Application Award:
Tom Spiekerman, Metropolitan Transportation Commission
The Regional 511 Transit Information System (RTIS)
The Regional Transit Information System (RTIS) is a new map-driven 511 Transit website for the nine-county San Francisco Bay Area, http://transit511.org. RTIS offers residents a regional trip planning system for over 35 different transit providers with substantial map interactivity, and a centralized source for regional transit information, such as schedules, fares, agency profiles, and popular destinations. It also includes other trip tools, i.e., nearby routes and services and regional rail systems planner, which include GIS mapping displays.
The 511 Transit website underwent a comprehensive upgrade in 2008-2009 to incorporate a new trip planner, and to provide more interactive website and mapping features to improve information display and usability. Tremendous effort and time was spent in designing and developing this new map-based user interface to ensure that the user experience is positive, friendly, intelligent, and produces a successful conclusion to a user request. The mapping is a combination of in-house developed ArcGIS applications and a mapping system developed within the trip planner.