CGIA did not present awards in 2007.
The winners of this year's CGIA Awards were announced at the CalGIS conference in Modesto, CA. This year's pool of nominees, submitted by their peers, well represented the diversity and strength of GIS around the state. The award winners, in the estimation of the judging committee, displayed exemplary implementation, innovation and success.
And the winners are: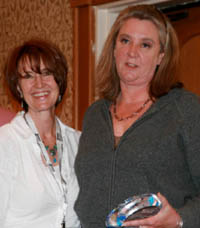 ---
Chairman's Award
for exemplary service to the California GIS community:
Carol Ostergren & Michael Byrne (no photo available),
USGS and CA Health Planning and Development
This dynamic duo has fit time into their everyday jobs and lives to help coordinate and promote GIS, collaborative projects, and regional initiatives for the betterment of GIS within the State of California. They have traveled to attend regional GIS councils and collaborative meetings around the state. During their visits they provide information about the California GIS Council, CGIA, State and Federal initiatives, and awareness of other regional projects. They have facilitated the acquisition of grants to move the State along in its data and imagery strategic planning efforts. They have also supported regional data acquisition grants. They promote the use of metadata tools to build further awareness of data available around the State. Together and apart they are working to pull together a State that does not have funded GIS organization or leadership.
.
---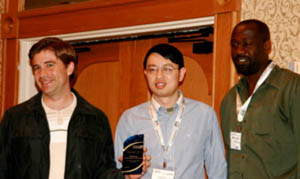 Exemplary Systems Award for outstanding GIS implementation:
California Department of Public Health IT/GIS Team
The IT/GIS staff of CEHTP, headed by Craig Wolff, has made an invaluable contribution to public health GIS and the development of sophisticated GIS technology for the implementation of a standards-based national environmental public health tracking (surveillance) network. Such a system must integrate health, environmental hazard, and socioeconomic data, which are often very disparate. The CEHTP IT/GIS team is developing tools and services that enable the enhancement, integration, and analysis of health and environmental data as well as play a central role in public health and safety. The Centralized Geocoding Tool enables users to geocode address data (real-time or in batch) to latitude/longitude coordinates or other political boundaries (e.g. Census Block Group, Public Land Survey, etc.) as well as standardize and verify address data. The purpose of this tool is to provide centralized, enterprise geocoding service that has high geocode rates and is secure, interoperable, spatially accurate, and available over the web. The current tool is exposed as web services (XML-based Simple Object Access Protocol) and CEHTP offers its partners .NET and Java-based batch geocoding clients.
.
---
Advancement of Collaboration Award:

Robert Yoha, CA Department of Conservation (DOC)
and CA Department of General Services (DGS)

Robert Yoha and Diane Vaughan of DOC and Rosemary Linares of DGS and the team have demonstrated unique and committed dedication for the past 4 years to developing a Master Service Agreement (MSA) for GIS software and related services. The MSA provides for a broad range of highly qualified and pre-selected software manufacturers, resellers, and GIS technical staff to State, Regional, and local government users. This MSA is the first of its kind in the Nation, and allows for government entities to procure GIS software and services more easily and faster. The MSA eliminates time consuming advertising, bidding, and contracting procedures by allowing the use of less formal ordering processes at reduced rates based on aggregate statewide potential volumes. The MSA is available to government agencies from city municipality to regional to state agency and will result in the reduction of administrative, technical, and managerial staff time historically needed for GIS-related procurement. Nominated by the CA GIS Council Executive Steering Committee.

.
---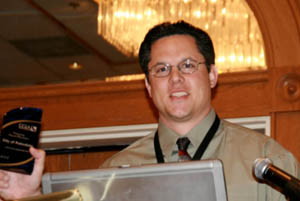 Outstanding Internet Presentation Award: 
Mike Behen, City of Palmdale

The City of Palmdale's online geographic information system (maintained and hosted by the City's GIS Section, of whom Mike Behen is the GIS Coordinator) is a powerful and elegant tool used by City staff to obtain answers to questions of a spatial nature that arise each and every working day. The system features an intuitive, easy-to-use interface that is both powerful and aesthetically pleasing. Its functions have been developed carefully to match each City department's needs and to integrate with other systems (including permitting software such as Permits Plus) and databases (such as the Los Angeles County Assessor property-information database and the City's capital improvement projects database). Users can quickly access information related to jurisdictional inquiries, search for and locate a property by its address, parcel number, or owner name, generate a printable report of the permit-issuance history on a particular property, print a standard format map (including all map elements and even a legal disclaimer) of an area and then customize the map with additional points, lines, polygons, and text without having to open another application.

.
---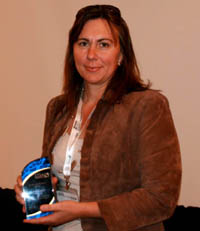 Excellence in Education Award: 
Maggie Kelly, UC Berkeley

Dr. Kelly's research and outreach program at UC Berkeley has several themes and is informed by the disciplines of GIScience, geography, and landscape ecology. She links ecological patterns with process in spatially heterogeneous and dynamic landscapes. For example, at UC Berkeley, we are mapping restored and natural wetlands in the SF Bay and asking how vegetation heterogeneity drives ecological function in these wetlands, examining how pattern in watershed catchments can influence water quality and delivery of materials downstream, and quantifying and modeling the spread of a new disease across forested landscapes at different scales. Thus, Dr. Kelly provides data and expertise needed to understand current and projected drivers of landscape change in California. A second theme embraces the evaluation of new technologies and development of best practices for ecological monitoring and landscape quantification using integrated geospatial technologies - GIS, remote sensing, GPS, spatial analysis, and landscape ecology approaches. She is particularly interested in integrating high spatial resolution remotely sensed imagery and output from new active sensors with innovative image processing and spatial modeling techniques.
Congratulations to all of the nominees and winners!