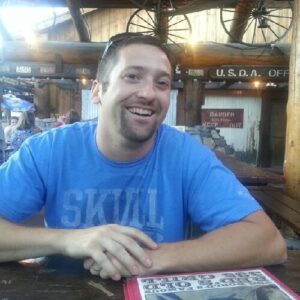 Steve Kincaid
Job: GIS Analyst II, City of Redding, CA
Bio: Steve has been a GIS Analyst for the City of Redding for the past 6 ½ years.  He has comprehensive knowledge of GIS in local government, specifically in the areas of ArcGIS Server, ArcGIS Online, and ArcGIS Desktop.  Steve also assists in the administration of the City's utility asset management system, called Cartegraph, which integrates with GIS.
Steve has worked as a GIS Coordinator/Fisheries Biologist Technician, Senior GIS Specialist, and Programmer/Analyst (USGS, 2004-2005; ENPLAN 2005-2008; Jackson County, OR 2008-2010).  Steve enjoys creating high quality cartographic and meaningful maps and assisting his customers on a daily basis with their mapping needs. As Steve learns more about map apps, he hopes to incorporate tools such as Survey 123, Operations Dashboard, and Insights for ArcGIS.  His career goal is to continue to make the City and all of its customers more efficient through the use of GIS.
Project(s): When Steve worked for the USGS he used GIS/GPS to map the locations of endangered radio tagged short nose and Lost River suckers (fish).  Then using GIS, he compared their spatial distribution with the drop in water quality in Upper Klamath Lake.
Working for ENPLAN Steve helped develop and implement GIS systems for small municipalities in Northern California.  Some of the municipalities include City of Anderson, City of Mt. Shasta, City of Shasta Lake, and City of Corning.
Some of his current projects include analyzing public/private parking capacity and percent occupied in downtown Redding.  Analyzing the density of ADA compliant curb ramp locations across the City and locate deficient areas using heat maps.  Deployment of iPads using ArcGIS Collector for water valve and hydrant inspections.  Utilizing Network Analyst for building a road network and routing services for the Police department's upcoming implementation of their new public safety software and CAD system.  Creating the City's Open Data webpage and administration of the City's organizational ArcGIS Online account.
Anything about yourself? Steve spends most of his free time with his wife and two children riding bikes, boating, swimming, and traveling.  Steve also enjoys outdoor activities including wakeboarding, wakesurfing, golf, and basketball.  You can find Steve on LinkedIn (https://www.linkedin.com/in/steven-kincaid-b9110b4) or at the City of Redding (http://www.cityofredding.org/departments/information-technology/gis-maps/interactive-maps), City of Redding Open Data Site (https://data-redding.opendata.arcgis.com/)