Hello everyone,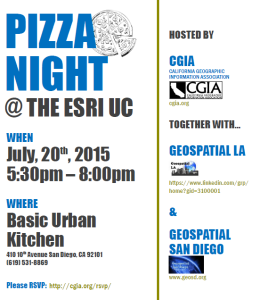 In conjunction with Geospatial LA and Geospatial San Diego, CGIA is hosting another "pizza night" for CGIA members and those interested in joining.  It should be fun and lively! CGIA will be providing the pizza, you need to provide your own drinks.
Please feel free to bring a friend and introduce them to the CGIA family, we hope they will all want to join us.
Attached please find the flyer for the event and location (click here to download flyer).
Event details:
Monday, July 20th
5:30 - 8:00 PM
Basic Urban Kitchen
410 10th Ave
San Diego, CA
Here is the link to an RSVP page just so we can get a count: http://cgia.org/events/rsvp/ .
Hope to see you there.