Look at this sleek award! It could be sitting on your desk in June with your name or institution on it!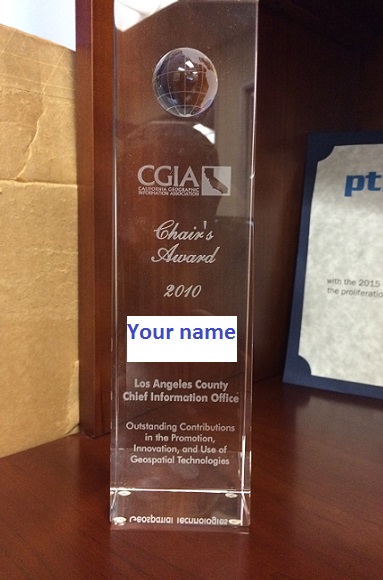 Please submit your nominations. Deadline is 11:59PM tonight. We are especially seeking nominations for Chairman's and Excellence in Education Awards.
Chairman's Award: Granted to honor a person who has made outstanding contributions in the promotion, innovation, and/or use of GIS technology.
Exemplary Systems Award: Granted for outstanding application of GIS technology representing innovative, elegant, or creative techniques.
Advancement of Collaboration Award: Granted for outstanding inter-organization collaborative efforts in GIS.
Outstanding Internet Application Award: Granted to the outstanding integration of GIS and web technologies demonstrating excellence in aesthetic presentation, functionality, ease of use, and overall user experience.
Excellence in Education Award: Granted to the educational institution that displays extraordinary approach, contribution, development or commitment to GIS education in California.