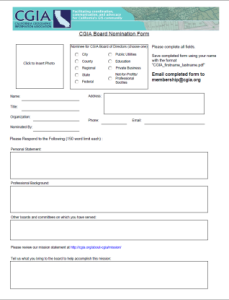 Hello CGIA member!
Election time for the CGIA Board is coming up, and CGIA is accepting nominations for new board members!  A board member serves for two years, under one of a number of categories.  You can see the current list here: http://cgia.org/about-cgia/board-of-directors/
There are vacancies for each one of the 2nd year positions.
We meet every two months for a couple of hours via Conference call and online, and help set the tone and direction of CGIA for the coming year.  It isn't a huge time commitment, however we do want to have engaged and opinionated folks to help drive CGIA's mission to facilitate the growth of GIS in the state.  I have attached the slide show from the recent open board meeting at CalGIS to see what was accomplished this past year!
You can nominate yourself or someone that you think will do a good job in the position.  You can nominate a non-CGIA member as well (but they would need to become a member to join the board).
Nominations will close Friday, June 19th, with online elections the following two weeks set to close at the end of June.
The Nomination Form is a fillable PDF file (click here to download) it is pretty easy to fill out, and we look forward to receiving your nomination!
If you have any questions don't hesitate to contact Dave Powers at dpowers@co.shasta.ca.us