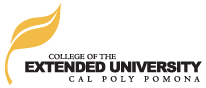 California State Polytechnic University, Pomona (Cal Poly Pomona), through the College of the Extended University, is offering a newly updated certificate program in Geographic Information Systems this winter. The program is designed specifically for non-specialist GIS users in a variety of professional settings. In conjunction with hands-on training in ArcGIS version 10 geographic information software, the certificate program trains students in methodologies for valid and meaningful spatial data collection, analysis, and information design/dissemination through cartography and other means.
The GIS Certificate consists of four one-day courses; each taught on a Saturday from 9:00 a.m.-5:00 p.m. in the GIS training facility on the Cal Poly Pomona campus. Students who complete the two core courses and any two elective courses will satisfy the requirements for the GIS Certificate. Enrollment in this program is currently open for winter quarter. Classes begin February 2, 2013.
Winter 2013 Course Offerings Include:
Fundamentals of GIS (Core) (Winter 2013)
GIS Data and Geodatabases (Core) (Winter 2013)
GIS Customization (Elective)
Web Based GIS (Elective)
GIS Analysis I: Vector Spatial Analysis in GIS (Elective) (Winter 2013)
GIS Analysis II: Raster Spatial Analysis in GIS (Elective) (Winter 2013)
For detailed course information and registration please visit www.ceu.csupomona.edu/go/gis or call the College of the Extended University's Registration Office at 909.869.2288.
A PDF flier of the Winter 2013 program is also available for download here.