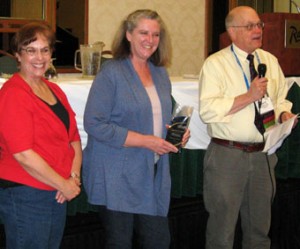 Mike Hamilton,Marine Corps Installations West
Western Regional Partnership Web Mapping Application
(accepted by Carol Ostergren)
The Western Regional Partnership (WRP) provides a proactive and collaborative framework for senior-policy level Federal, State and Tribal leadership to identify common goals and emerging issues in the states of Arizona, California, Nevada, New Mexico and Utah and to develop solutions that support WRP Partners and protect natural resources, while promoting sustainability, homeland security and military readiness.
The GIS Sustainability Decision Support Tool, known as the WRP Web Mapping Application, was designed to assist partner planning efforts in the region. The application displays spatially referenced data using a common platform and shared data. To take full advantage of the mapping tool, WRP partners need only an internet connection, web browser, and WRPinfo.org user account. The mapping application references GIS data contained in the WRP regional GIS database, which includes publicly available datasets from WRP state, federal and non-governmental partners. In addition to the Regional GIS database, the application links GIS web mapping services published by other organizations.
This decision support tool provides Partner agencies a common platform where data may be reviewed and used by the WRP community.